Fulton Schools In the News – 2016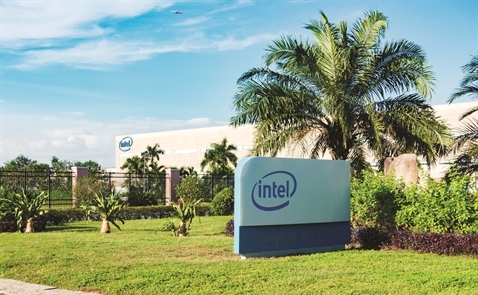 Intel Products Vietnam plans to expand its factory in Ho Chi Minh City in 2017.
According to Sherry Boger, CEO of IPV, the expanded factory will prepare large area for cleanrooms class 10. Intel has joined forces with VNPT Technology to set up a lab reserved for IoT research. 
The Higher Engineering Education Alliance Program, a project initiated by Intel and supported by ASU and USAID, has trained over 5,000 lecturers and high-ranking managers for eight schools throughout the country in accordance with ABET standards. HEEAP will be a source of supply for the workforce at Intel and the IoT market as a whole.
The Del E. Webb Foundation Altitude Chamber on the ASU Polytechnic Campus, has been used by two Mercury Seven astronauts, U-2 spy pilots, the world-record parachutist who jumped from the edge of space and recently the SpaceX program. The heavy-duty altitude chambers simulate extreme conditions and help save lives.
Scientists are investigating a range of technologies they hope can capture lots of carbon without a lot of cost, but ASU's Klaus Lackner, director of the Center for Negative Carbon Emissions, doubts one of the technologies can be sustained due to scale.
Mechanical engineer Liping Wang, an assistant professor at Arizona State University, imagines an energy sector enhanced by greater control over thermal radiation. To work toward this objective, he is designing and constructing a host of custom electromagnetic materials. Wang's endeavor is supported by a Young Investigator Program research grant from the Air Force Office of Scientific Research, totaling $360,000 over three years. The program received more than 230 proposals, awarding grants to only 25 percent of applicants.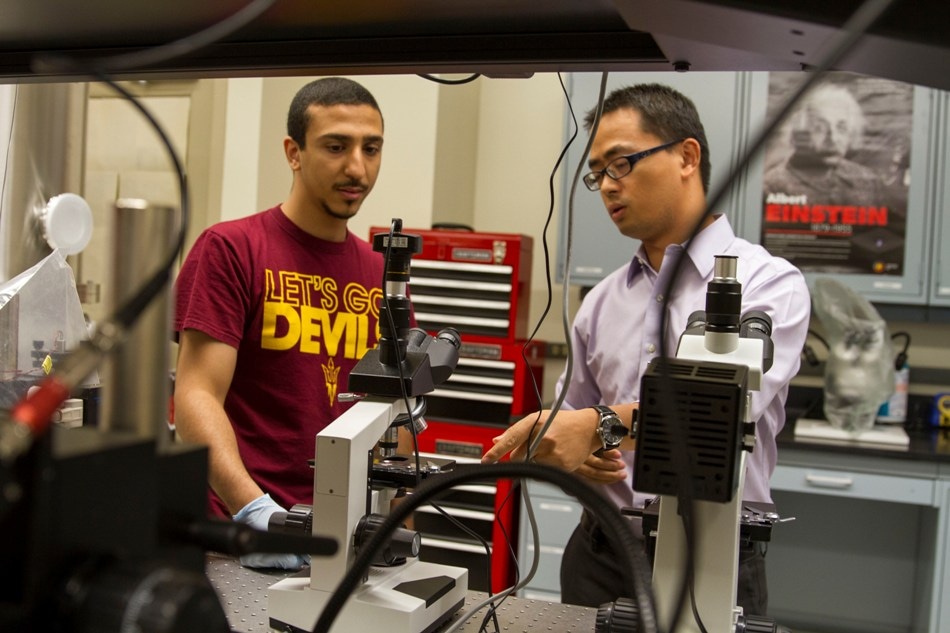 Among the researchers at ASU's Center for Cognitive Ubiquitous Computing — or CUbiC — is one who doesn't have a high school diploma. Yet.
Shreya Venkatesh, a high school senior at BASIS Scottsdale, is helping program the device's vibration patterns. That "vibrotactile feedback," as CUbiC calls it, is designed to alert Parkinson's patients that a freezing episode may be ahead and help them avoid it.
The National Science Foundation (NSF) Graduate Research Fellowship program wants STEM students to make a positive impact on science in the world today. This year, the NSF is focused on engineering students at ASU who show promise — three current graduate students pursuing doctorates at ASU's Ira A. Fulton School of Engineering received the NSF Fellowship this year. 
A Sensors & Systems blog about the mind-controlled drones of ASU's Panagiotis Artemiadis, director of the Human-Oriented Robotics and Control Lab, was named one of the year's top stories by Spatial Source.
Paulo Shakarian, a 2016 Fulton Entrepreneurial Professor and director of the Cyber-Socio Intelligent Systems Lab, has taken on the role of team leader for area veterans through the Armory Incubator. Shakarian, a West Point grad who served as a military intelligence officer, launched Cyr3con last year. The company focuses on cyber reconnaissance.
For the first time, researchers have synthesized semiconducting gallium telluride (GaTe) in the monoclinic phase as a pseudo-one-dimensional (pseudo-1D) material. This new class of materials is characterized by quasi-1D chains of atoms running in a particular direction along a 2D surface. 
The researchers, led by Sefaattin Tongay, Assistant Professor of Materials Science and Engineering at Arizona State University, have published a paper on the first synthesis of the pseudo-1D GaTe material in a recent issue of Advanced Materials.
Ziming Zhao, an assistant research professor in the School of Computing, Informatics, and Decision Systems Engineering, Ira A. Fulton Schools of Engineering, Arizona State University, has been named a member of the iSign International Advisory Committee. Zhao's focus is on security and privacy related problems in computer and communications systems.
Commenting on the news, Gerard E. Munera , the Chairman of iSign, said, "Dr Zhao's background, experience and intellectual capacities represent, without any doubt, a huge asset for our company." Zhao joins ASU's Gail-Joon Ahn on the iSign team.
Veritas Genetics Adds Three Scientific Advisory Board Members to Accelerate Progress and Discovery in Consumer Genetics, Yahoo Finance, Dec. 15
Scott Parazynski, M.D., former NASA Astronaut and Physiologist with expertise in human adaptation to extreme environments, CEO of Fluidity Technologies and prolific product developer, joins VeritasGenetics as a scientific advisory board member.
Parazynski, an SBHSE professor, is one of three new advisory board members chosen for their complementary perspectives and expertise in the fields of biomedical informatics, physiology and molecular genetics.
A paradigm shift in our car-centric approach to urban development is what it will take to keep traffic congestion from clogging the roadways in our growing metropolitan areas. In this Op-Ed article, Fulton Schools Assistant Professor Mikhail Chester and civil engineering postdoctoral research associate Andrew Fraser help to propose ways to make that shift. They and Fulton Schools Professor Ram Pendyala are also among co-authors of articles on the same topic in ACCESS magazine and the Journal of the American Planning Association.
Vice Staff Writer Mike Pearl had a conversation about what would happen if the EPA were disbanded with Brad Allenby, professor of civil and environmental engineering at Arizona State University and former senior environmental attorney for AT&T. Allenby said environmental protection is a whole lot more than just regulating of CO2 emissions, and that even hardcore capitalists can love some of what it does.
How to Make Solar Work, The Electrochemical Chemical Society's redcat blog, Dec. 5
Fulton Schools Professor Meng Tao is working on ways to help society switch to more sustainable sources of energy through his research aimed at producing advances in solar energy technologies. He's focusing on moving toward large-scale implementation of solar technology that could shift our energy dependence away from fossil fuels.
The Fulton Schools Engineering Projects in Community Service (EPICS) program is being adapted by Tirupalavanam Ganesh and Jennifer Velez to introduce middle school students to engineering careers. Ganesh is the Fulton Schools assistant dean of engineering education and an associate research professor. Velez is a senior coordinator for K-12 engineering education outreach.
---
According to the Identity Theft Resource Center's most recent Data Breach Report, Arizona ranks 20th overall in terms of susceptibility to crimes ranging from "identity-theft complaints per capita" to "average loss amount due to fraud." Gail-Joon Ahn, director of ASU's Center for Cybersecurity and Digital Forensics, answers some questions about how to guard against identity theft.
---
In his latest article for a leading construction management and engineering industry magazine, retired Fulton Schools research professor Thomas C. Schleifer provides building contractors with a formula for assessing the potential financial risks and rewards of taking on projects outside of their specific areas of expertise and experience.
---
3D-printed hearts help surgeons at Phoenix Children's Hospital, AzFamily.com, Nov. 24
Surgeons at Phoenix Children's Hospital are using 3D-printed hearts to plan complicated procedures. And the man who makes them, Justin Ryan, was an ASU art student who went on to earn a doctorate in biomedical engineering. Ryan now runs the Cardiac 3D Print Lab at PCH. 
Also See:
---
Motherboard's Daniel Oberhaus loses 3-1 in a game of hoops against SunDevil RX, the self-learning, basketball shooting robot from Assistant Professor Heni Ben Amor's Interactive Robotics Lab at ASU. Ben Amor reinforcement learning algorithm, called sparse latent space policy search, allows it to "learn by doing" and accurately shoot a basketball into a hoop. The machine learning algorithms developed for SunDevil RX will have value in manufacturing environments where speedy recalibration of tasks is required.
Also See:  'Feeling' Prosthetic Limbs Using Virtual Reality, Interesting Engineering, Sept. 14
---
The 13th Annual Arizona Pavements/Materials Conference began Tuesday on Arizona State University's Campus with demonstrations of six different types of sustainable pavement.
The demonstrations took place on Orange Street and McAllister Avenue where folks from ASU, the Arizona Department of Transportation and the Federal Highway Administration showcased the sustainable pavement types.  The conference, which has more than 400 attendees, continues through Thursday, Nov. 17 and includes exhibitors from the construction and supply industries.
---
Elevated pressure inside the skull can be deadly if it is not identified and relieved quickly, leading to a shortage of oxygen and glucose to the rest of the body. Most solutions for monitoring are invasive and inaccurate.
A collaborative team from ASU's School of Electrical, Computer and Energy Engineering and the School of Biological and Health Systems Engineering, led by ECEE's Jennifer Blain Christen, is working on a low-cost sensor that could be easily and cost-effectively used to help scientists and doctors understand epilepsy and detect seizure zones in the brain area that might lead to surgical treatment of the disease.
---
"What if, in response to crises, augmented and alternate reality games like Pokémon Go switched into a mode that rewarded players for donating blood? Delivering water bottles? Filling sandbags? Offering temporary housing? Or evacuating areas threatened by storm, wildfires, floods, tornadoes, or other hazards?"
The future of civic disaster response using gamification is the subject of an article by Thomas P. Seager, associate professor and Susan Spierre Clark, research assistant professor, both from the Fulton School of Sustainable Engineering and the Built Environment, originally written for Zocalo Public Square.
---
After completing an extensive self-study and hosting a site visit by a three-member team of industry and education experts, the Graphic Information Technology program at Arizona State University was awarded national accreditation beginning September 1, 2016.  
The Arizona State University program is among 13, associate and baccalaureate level, graphic communications related programs nationwide currently holding this distinction.
---
In an interview on the nationally broadcast "Science Friday" radio program, Fulton Schools Assistant Professor Karmella Haynes talks about what her lab team discovered that could have a big impact on use of the new CRISPR cell-engineering technology. 
---
Robotics researchers at Arizona State University, led by Heni Ben Amor, assistant professor of computer science, have a invented a robot that taught itself to shoot hoops — just in time for the beginning of basketball season.
---
While the new CBS drama featured a 3D printed heart as cutting edge technology, the  Cardiac 3D Print Lab at Phoenix Children's Hospital, a collaboration with Arizona State University, can be traced to 2010 when art majors undergrad Justin Ryan was recruited for the team at the Image Processing Applications Lab. Ryan earned his doctorate in the biomedical engineering graduate program, and now runs the PCH lab.
Also see: 
---
In an interview of the PBS-affiliate TV station Channel 8 in Phoenix, Micah Lande, a Fulton Schools assistant professor of manufacturing engineering, talks about what he and other ASU faculty members are doing to bring more people into Citizen Scientist endeavors.
Also See:  Making Citizen Science Tools Discoverable and Accessible, PLOS Blogs, December 7
---

John Hughes, a Fulton Schools mechanical engineering student who transferred from Estrella Mountain Community College, used 3D printing to create a series of prosthetic hands for a growing eight-year-old Noah Muns as a project in his Physics II class. Hughes finished his coursework at EMCC in the spring, but even after classes ended for the summer he was still hard at work perfecting Noah's prosthetic. He continues to mentor current EMCC engineering students so they can build new prosthetics as Noah grows. 
---
A new kind of solar panel is being tested in water-scarce regions of Ecuador, Jordan, and Mexico where the device, called Source, pulls moisture from the atmosphere to provide clean drinking water. Developed by ASU Associate Professor Cody Friesen's Arizona-based startup Zero Mass Water, the setup uses solar energy to produce potable water for a family of four or an entire hospital, depending on how many panels are in use. Last year, the company raised $7 million to back a series of pilot programs to prove how simple and cost-effective access to clean water can be.
Also see: 
---
Fulton Schools Professor Klaus Lackner weighs in on debate about the potential impacts of using emerging carbon-capture technologies to keep the harmful effects of climate change in check. Lacker directs the Center for Negative Carbon Emissions. Photo:Pembina Institute/flickr
---
Kyle Squires, dean of the Ira A. Fulton Schools of Engineering at ASU, and Sethuraman Panchanathan, executive vice president of Knowledge Enterprise Development, participated in an Education Writers Association panel discussion last month on Innovation and the Future of Higher Education.  Their insights on entrepreneurship and inclusion were cited by The Atlantic.
---
Over the past 50 years, Fulton Schools Professor of Engineering Emerita Mary Anderson-Rowland has led efforts to boost diversity among Arizona State University engineering students. Even in retirement she continues to aid the cause of bringing women, underrepresented minorities and transfer students into ASU's engineering programs.
---
Amazon, Facebook, Google, Microsoft, IBM and other major players in the realm of artificial intelligence technologies are teaming up to address ethical issues arising with the rapid proliferation of AI devices — and to address misperceptions about them. Subbarao Kambhampati, Fulton Schools professor of computer science and the president of the Association for the Advancement of Artificial Intelligence, offers some perspective on the many issues revolving around the uses of AI.
---
A "synthetic tree" created by Fulton Schools Professor Klaus Lackner and his team at the Center for Negative Carbon Emissions is capable of absorbing carbon dioxide. The technology could help reduce the accumulation of this troublesome greenhouse gas in the Earth's atmosphere.
---
Phoenix-based technology distributor Avnet Inc. and the Arizona State University Ira A. Fulton Schools of Engineering have teamed up to accept applications for the next class of entrepreneurs for the Avnet Innovation Lab. Through the lab, entrepreneurs have access to the expertise of one of the largest technology distributors in the world – Avnet –  and Arizona State University.
---
ASU's President Michael Crow and Leonardo Beltrán Rodriguez, deputy secretary for energy planning and transition for Mexico's Ministry of Energy, authored an opinion piece for the Dallas Morning News.  The article references Fulton Engineering's collaboration with the Binational Laboratory on Smart Sustainable Energy Management and Technology Training at the Instituto Tecnológico de Monterrey in Mexico City.
---
Air Legs, an exoskeleton that enables soldiers to run a four-minute mile, was developed in ASU Engineering Professor Tom Sugar's Human Machine Integration Lab on the Polytechnic Campus, was featured in an article about new technologies that help make U.S. troops faster, smarter and more resilient.  
---
---
ASU and other universities have teamed with private industry to create a water filter that should be easier to use and less expensive than reverse osmosis to reduce exposure to chromium-6 at home. 
---
Fulton Schools Assistant Professor Paulo Shakarian talks about the work being done in his Cyber-Socio Intelligent Systems Lab to find ways to defend against cyber attacks.
---
Chromium-6 in Phoenix Water, KAET-Channel 8 "Horizon," Sept. 21
Channel 8's "Horizon" program turned to Fulton Schools Professor Paul Westerhoff, an environmental engineer, to discuss health concerns sparked by a form of the metal chromium that has shown up in some Arizona water-supply systems.
---
Paulo Shakarian, an assistant professor of computer science and engineering in the School of Computing, Informatics, and Decision Systems Engineering, talks with KJZZ's Steve Goldstein about how his team's 'machine learning system' is finding out what's going on in the deep — especially if they're possible starting points for cyber attacks.
---
The innovative work with imitation learning by Heni Ben Amor, an assistant professor of computer science and engineering at ASU,  is featured in a round of some of the more significant advancements in machine learning.  
---

Researchers reveal how ants organize themselves into complex living structures to overcome obstacles — and how such acts can provide valuable insights for engineers and robot designers. Ted Pavlic, a Fulton Schools assistant professor whose expertise includes robotics and autonomous systems, helps explain what lessons ants' collective intelligence can teach us.
---
DIRTY DATA
Joshua Steele, a postdoctoral civil engineering student in the Human Health Observatory (H2O) Lab, explains how biomarkers in waste that can measure human habits and behaviors on an aggregate basis without invading privacy. "At a community level, we can gauge a measure, we can feel the heartbeat of a community and track these different signals."
---
Rolf Halden, a School of Sustainable Engineering and the Built Environment professor and director of the Biodesign Center for Environmental Security at ASU's Biodesign Institute, has been tracking the detrimental effects of sanitizing soaps and wipes for years. The FDA agrees.
Also See:
[vimeo]https://vimeo.com/102956420[/vimeo]
---
Assistant professor Jennifer Blain Christen from ASU's School of Electrical, Computer and Energy Engineering is working with a team to develop a patch that will diagnose anything from the flu to more serious diseases using sweat. The non-invasive, convenient and cheap tool is expected to be available in the next couple of years.
---
Sonoran Biosciences, an early stage pharmaceutical company spun out of Arizona State University, has received a $1.48 million research grant for its antibiotic gel to treat prosthetic joint infections.
Sonoran Biosciences was founded by a team led by Derek Overstreet, who worked in Associate Professor Brent Vernon's Biomaterials Lab while earning his doctoral degree in biomedical engineering at ASU.  Overstreet remains an adjunct professor in the School of Biological and Health Systems Engineering.
---
"But the most exciting development for storage technology may be the product of one small Scottsdale, Arizona, startup Fluidic Energy.  Wall Street Daily is referring to Cody Friesen's ASU research team's spin-out of zinc-air battery technology and integrated intelligence, calling it "the battery technology innovation that checks the boxes: higher energy density, lower cost, better safety, and longer life." 
---
It's still unknown who recently broke through the cybersecurity defenses of the U.S. National Security Agency, and it has experts speculating that hackers may now have a new arsenal of weapons to breach computer systems' firewalls. Paulo Shakarian, Fulton Schools assistant professor and director of the Cyber-Socio Intelligent Systems Laboratory, comments on how the NSA is likely to respond to the threat.
---
ASU's EcoCAR3 team is revving up for year three of the four-year, GM-sponsored competition.
---
Chemical Engineering Professor Gregory Raupp, director of MacroTechnology Works for the Office of Knowledge Enterprise Development at ASU, is teaming up with the Mayo Clinic's Dr. Greg Worrell to help people who suffer from seizures with new brain-mapping technology.
---
A team at Arizona State University's  CySIS Lab,offers a different approach to stopping unknown software vulnerabilities with a machine learning system that monitors darknet and deepnet traffic for information about zero-day exploits before the exploits are let loose in the wild.
---
A key goal for cybersecurity experts is to identify zero day exploits before they can be turned into malware. And for computer engineer Eric Nunes and team at Arizona State University's CySIS Lab, the case of the Dyre Banking Trojan has provided important inspiration for an entirely new approach to this kind of cybersecurity
Also see:
---
ASU Engineering grad Shawn Goddeyne has received the Young Engineer of the Year award from the South Carolina Society of Professional Engineers. The award was presented to Goddeyne at the annual state Engineering Conference and Trade Show banquet.
---
ASU engineering grads launch breakthrough communications device, East Valley Tribune, Aug. 4
ASU electrical engineering grad Ajay Karpur and computer science grad Shantanu Bala have teamed up to create Moment, a wearable device that offers GPS navigation, caller ID, notifications, alerts and time augmentation through silent, vibrotactile shapes drawn on your wrist. 
Also see: 
---
 USPCAS-E to fulfill pressing national needs for exposure to new technology and collaboration with experts
The launch of US-Pakistan Centre for Advanced Studies in Energy at National University of Sciences and Technology (USPCAS-E) by the United States Agency for International Development (USAID), in collaboration with the Higher Education Commission (HEC) and Arizona State University (ASU), is an effort to address the chronic energy shortage in Pakistan. This partnership builds on existing talent in Pakistan by providing university faculty with exposure to new technology and an opportunity to collaborate with other experts in their fields.
Also see:
---
Arizona technology companies are finding ASU engineering graduates with the skills to strengthen their workforce. One reason: Courses focus on providing students experiences they need to prepare for meeting the engineering challenges industry will face in coming decades.
---
ASU Associate Professor Bradley Greger and researchers from the Fulton Schools' Neural Engineering Lab demonstrate new research being conducted using Oculus Rift headsets. The findings will help amputees develop enhanced motor movement with prosthetic limbs.
Also see:
---
For the past year the Girl Scouts have partnered with ASU Assistant Professor Ashish Amresh to host multiple "Girls Design Video Games" workshops at the ASU Polytechnic campus. Amresh directs the ASU Interactive Lab and is an Assistant Professor in Software Engineering and is leading the Computer Gaming curriculum initiatives at Arizona State University, where he founded the Computer Gaming Certificate, Camp Game and UTBC summer programs. This was their first overnight camp, and first camp at NAU.
---
In a 3D printing breakthrough, Fulton Schools assistant professor Owen Hildreth and collaborators at Penn State have developed a technique to print dissolvable metal supports through a new process that can replace expensive machining operations with simple low-cost chemical baths. See also a report at the science and tech new website Phys.org and the research paper in the journal 3D Printing and Additive Manufacturing.
---
Self-described geek, engineer and technologist Nadya Bliss, Professor of Practice in CIDSE and Director of the Global Security Initiative, weighs in on embracing "messy, interconnected" wicked problems. 
---
CIDSE Professor Subbarao Kambhamti, who served as program chair for the International Joint Conference on Artificial Intelligence, talked about inventing the future during a news conference at the event. 
---
ASU mechanical engineer Panagiotis Artemiadis is using electrodes that detect brainwaves to expand the possibilities of controlling technology through our thoughts.
International coverage on this story, which originated with ASU Now, includes:
---
ASU'sCenter for Global Security Initiative Director Nadya Bliss and Cybersecurity and Digital Forensics Director Gail-Jun Ahn are working with leading faculty in law, business, engineering, psychology, public service, social sciences and criminology — to define the frontiers of cyber defense technology and examine the impact of laws, policy and society.
---
Finding The Formula, TechConnect magazine, Summer 2016 issue
Professor Nancy Cooke, chair of the human systems engineering program, led a national committee that looked at ways to ensure success in team research endeavors. Cooke and Nadya Bliss, director of ASU's Global Security Initiative, talk about what it takes to make collaborative science and engineering click. (See page 16 of the online issue of the magazine.)
---
ASU researchers looking at Phoenix urban heat island problem, CBS5 KPHO, June 28
Engineering doctoral student Jiachuan Yang walked CBS5 through the various methods he and other researchers are working on to combat the urban heat island effect. 
---
ASU Bioengineer Jeffrey La Belle and his team in the La Belle Lab have developed a sensor that measures the sugar in tears, paving the way for pain-free glucose testing.
---
The Ben & Catherine Ivy Foundation is providing a scholarship for John Heffernan, an Achievement Rewards for College Scientists scholar, pursuing a PhD in bioengineering at Arizona State University. He plans to focus on glioblastoma multiforme brain cancer research.
---
Kathy Wigal, associate director of Curricular Innovation, GOEE, who will administer the BUILD-IT Program in Vietnam, served as a panelist at the Phoenix Business Journal Global Markets Asia Experience roundtable, which rolled out a road map from Phoenix to trade in 49 different Asian countries.
---
Allstate has pledged $1.5 M to ASU's Center for Cybersecurity and Digital Forensics over the next three years. "This partnership fits perfectly with the center's mission, bringing together expertise from private industry and academia, and giving students an opportunity to get hands-on experience," said CIDSE Professor of Practice Nadya Bliss, director of the Global Security Initiative, which houses CDF.
---
Arizona Technology and Innovation: Better Solar Panels, Arizona Horizon, June 23
A creative "marriage of technologies" enabled Fulton Schools of Engineering research teams to develop a new kind a solar cell that promises to be more efficient at generating electrical energy from sunlight.
---
Fulton Schools of Engineering Professor Brad Allenby explains why millennials and senior citizens could be sold on the idea of driverless cars by different twists on the "technology of freedom" advertising pitch.
---
Girls in STEM, Arizona Horizon, June 20
Fulton Schools' Assist Dean of Engineering Education Tirupalavanum Ganesh and Gabriel Escontrias, Manager of ASU's Center for Gender Equity in Science and Technology, take part in a discussion about how and why to encourage girls' interest in science, technology, engineering and math.
---
Carbon-capture technology developed by the Fulton Schools' Center for Negative Carbon Emissions is seen as a potential tool for reducing the threatening buildup of greenhouse gases in the atmosphere.
---
Fulton Schools' faculty and students participated in a project to introduce Autodesk® Fusion 360TM software into the Introduction to Engineering Curriculum. The team is now working to establish a Fusion 360 certification program on campus in the 2016-17 academic year.
---
As the Phoenix Metro area was beset with its second day of high pollution advisory due to ozone levels, Albert Brown, a senior lecturer in the Polytechnic School weighs in on the different types of air pollution. 
---
NeoLight LLC, an ASU med-tech start-up that launched a device to treat newborn jaundice, has raised $1.4 million and expanded its product line. Working out of an office at ASU's SkySong and the Center for Entrepreneurial Innovation business incubator on the GateWay Community College Campus, NeoLight now employs 14 engineers. 
---
ASU Technology could lower cooling bills, CBS 5 KPHO, June 1
Doctoral student Peter Firth is featured speaking about the novel nanoparticle window coating technology developed in partnership with Assistant Professor Zachary Holman. It's estimated the coating could save families up to $100 a year in energy costs.
---
Environmental Engineering Professor Bruce Rittman, co-director of the Arizona Center for Algae Technology and Innovation (AzCATI) with Professor Klaus Lacker, is cited on the benefits of converting waste to energy (WTE). 
---
Research Professor Tom Dempster from ASU's Arizona Center for Algae Technology and Innovation (AzCATI) is collaborating with the Salt River Project (SRP) to find new ways to utilize algae in the desert.
---
Two Fulton Schools Electrical Computer and Energy Engineering solar energy research teams, inspired by students and led by Professors Yong-Hang Zhang and Zachary Holman, collaborated to enhance efficiency and affordability of solar panels.
---
David Benson, the academic director of ASU's Higher Engineering Education Alliance Program (HEEAP), works with visiting professors from Vietnamese universities to learn new ways to teach and explain material to their students.
---
Arizona State University's engineering team created a supercapacitor that's edible. Basically, it is a combination of egg, water, carbon pellets, gold foil, gelatin, cheddar cheese, seaweed and an energy drink.
---
During a press briefing in Ho Chi Minh City Tuesday, prior to the formal launch of Fulbright University Vietnam, Secretary of State John Kerry included Arizona State University among U.S. academic institutions having an impact in Vietnam's academic arena.  
"We're also working together, excitingly, in the academic arena.  And I can't emphasize how key that is in terms of transformational long-term impact of a relationship.  The Institute of International Education, Arizona State University, Harvard Medical School, the University of Hawaii all have partnerships with institutions in Vietnam, several involving participation by the private sector.  And tomorrow, I will have the privilege of launching the formal launch of Fulbright University Vietnam, which will be a full-fledged, non-profit and totally academically free institution."
---
Physicist Klaus Lackner has been pioneering technology to extract carbon dioxide from the atmosphere to combat climate change. As CO2 emissions continue to soar, the Ira A. Fulton Schools of Engineering professor says such "air capture" approaches may be our last best hope.
---
"American academic and technological leaders, including Intel, Oracle, Arizona State University and others, will help Vietnamese universities boost training and science and technology, engineering and math."
ASU's Higher Engineering Education Alliance Program (HEEAP) trains Vietnamese professors from eight universities on engineering topics.
---
Fluidic Energy, ASU Associate Professor Cody Friesen's ASU start-up, adds Madagascar to its growing list of off-grid villages that will count on sustainable, low-cost power thanks to lithium-ion batteries.
---
A study on in vitro biomass meat cultivation co-authored by SEMTE President's Professor Braden Allenby was cided in an article about lab-grown meat as a mechanism to address the environmental and animal welfare ethics of traditional meat production.
---
Mehulkumar Gandhi, a math teacher at San Luis Middle School in Yuma led his CISCO-Supported Arizona FIRST ® LEGO® League team, the Scorpiotics, to win the Champion's Award. Arizona FIRST ® LEGO® League is an Ira A. Fulton Schools K-12 Engineering Education and Outreach program designed to ignite an enthusiasm for the basic principles of science, technology, engineering, and math (STEM) in children ages nine to 14.
---
Crow says 'The System Needs to Be Blown Up,' U.S. News, May 18, 2016
ASU President Michael Crow participated in the Keynote Panel at the U.S. News STEM Solutions Conference in Baltimore this week. Crow describes how ASU Engineering grew from 8,500 students with a 68 percent freshman retention rate in 2008 to 17,000 engineering students with a 90 percent freshman retention rate today. (President Crow joins the panel discussion at about the one-hour mark in the video.)
---
ASU President Michael Crow asserts we must do better when it comes to recruiting women engineering students.
---
Harindra Joseph Fernando, former Fulton Engineering professor of mechanical and aerospace engineering and founding director of the Arizona Board of Regent's Center for Environmental Fluid Dynamics. has been selected to receive an honorary doctorate from the University of Dundee, a preeminent public research university in the United Kingdom.
---
Phoenix-based Avnet, Inc. and Arizona State have partnered to create a new innovation incubator for technology startups.
The first four companies are: Pit Rho, which will design and test a smart retail bag that enhances the shopping experience; XL Hybrids Inc., which is building an auto and truck fleet electrification business; The Youngbull Lab at ASU is working to create an early-warning system that monitors for microbes and other biological agents, and Zero Mass Labs, which is removing volatile organic compounds from the polymers industry.
---
Lifelong Somerton resident Gerardo Anaya, an ASU Engineering alumni, is becoming an interim mayor of Somerton during a pivotal moment in the city's development. Work has begun on the construction of a city hall. The hope is this will spur redevelopment downtown. Anaya will be overseeing these measures. 
---
Former Fulton School of Engineering Dean (1995-2006) Peter Crouch is a candidate for engineering dean at the University of Texas, Arlington. Crouch has shared a plan for the the future of the engineering school that stresses the need for student growth and research programs.
---
James Anderson, professor emeritus at the School for Engineering of Matter, Transport and Energy at Arizona State University, who has studied air quality in Arizona extensively for years, is cited in an Arizona Republic article about children vulnerable to asthma.
---
Fulton Engineering School of Electrical, Computer and Energy Engineering Capstone projects were recently showcased on Fox10. 
---
CUbiC's tech innovations helping people overcome disabilities, "Horizon" (Channel 8) April 28, 2016
Professor Sethuraman "Panch" Panchanathan was interviewed on the "Horizon" news and public affairs program about the Fulton Schools of Engineering's Center for Cognitive Ubiquitous Computing (CUbiC), where researchers are using machine learning, pattern recognition, haptics and human-computer interaction technologies to aid people living with physical disability challenges. Panchanathan founded and directs the center.
---
Anaya, a recent participant of our Wednesday's Child and K-12 Outreach program, was part of a private session with one of Ira A. Fulton's own Evelyn Holguin, a sophomore at Arizona State University. It was at this private session that Anaya realized that her passion for legos could segway into an engineering career. 
---
Assistant Professor Shane Underwood, Ira A. Fulton Schools of Engineering School of Sustainability and the Built Environment and Shane Bycott, Coordinator Sr. K-12 Engineering Education and Outreach, were guests on the April 14 "Business for Breakfast" talk show on MoneyRadio1015.
The "two Shanes," as they were introduced by hosts  Ken Morgan and Mark Asher, outlined some of the many summer camp programs offered through Fulton Engineering this summer. You can listen to their interview at 27:15 mark in the program. 
---
ASU eSports team makes final four in Heroes of the Dorm tournament, The Arizona Republic, April 11
After weeks of competition, a group of Arizona State University students, including two from Ira A. Fulton Schools of Engineering, beat teams from across the country to secure a spot in the final four of a tournament called Heroes of the Dorm.
---
Brady Falk, biomedical engineering major, is one of 170 Barrett, the Honors College students presenting at the Celebrating Honors symposium on the Tempe campus. He has always been interested in healthy lifestyles and wearable technology. His project is a workout shirt with integrated sensors to predict fatigue in military personnel.
---
Longtime engineering executive John Thornquist, an ASU mechanical engineering grad,  has been chosen to head up Washington state's Office of Aerospace, just as the state's $70 billion-plus industry sector is heading into a time of transition.
---
ASU Alumni Sabah Randhawa was unanimously chosen to become the next president of Western Washington Univerisity. Randhawa earned his doctorate degree in industrial engineering at ASU.
---
Researchers at Arizona State University and engineers at Salt River Project are conducting joint research studies to find new ways to use algae in the desert, specifically in the operation of power plants.
---
Arizona Technology Enterprises (AzTE) brought some of its startups to Germany's Hannover Messe Technology and Trade show, including ASU's very own Fluidic Energy, an ASU spin out that is partnering with Caterpillar Inc. and PLN, Indonesia's state-owned electricity company. Together they will provide power to 500 remote villages and 1.7 million people. 
---
The 2016 Horizontal Directional Drilling Academy was hosted by the Arizona State University Del E. Webb School of Construction and Benjamin Media Inc., February 11-12. ASU Engineering Professor Samuel Ariaratnam and Academy sponsors worked to put on the second annual conference where more than 120 drillers from across North America gathered to discuss new HDD technologies.
---
William "Jamie" Tyler, ASU Assoc. Professor, SBHSE, co-founder of ASU spin-off Thync, addresses the wearable tech device and the future of stimulating key regions of the brain — with currents or magnetic fields — to affect emotions and physical well-being. 
---
Scott Shrake, Ph.D., director of the EPICS program, was featured by Shardul Golwalkar, a Fulton Electrical Engineering grad, on the Techstar Blog.
---
ASU Engineering Professor Samuel Ariaratnam was consulted about Omaha's underground utility congestion. There is currently a 35-million mile collection of pipes that run under the area making it difficult for contractors to build without causing damage to existing systems underground. 
---
Crime Trackers: ASU working on computer program to find missing people, KVOA News4 Tucson, March 6
A former federal agent who started an organization called "Find Me" in 2002, has teamed up with ASU's CySIS Lab to come up with a computer software that helps find missing persons.
KVOA | KVOA.com | Tucson, Arizona
---
When an NBC Bay Area Investigative Unit discovered that the BART extension from East Bay to San Jose had installed cast iron pipe instead of PCV pipe, ASU's Professor Samuel Ariaratnam, chair of SSEBE's construction engineering program, was consulted about the significance of the mistake. (Video no longer available.)
---
The Piedmont chapter of the South Carolina Society of Professional Engineers (SCSPE) has named Tindall's Shawn Goddeyne, P.E. Young Engineer of the Year (YEOY). This award honors engineers who make outstanding contributions to the engineering profession and the community during the early years of their career. Goddeyne graduated from Arizona State University in 2006 with a Bachelors in Civil Engineering and again in 2008 with a Masters of Science in Structural Engineering.
---
As a preview to Night of the Open Door events on the Tempe campus on Feb. 27, KPNX 12News featured the Daedalus Astronautics rocket awareness activities. Daedalus, a student-run organization dedicated to the design, manufacture, and launching of sounding rockets, sponsored hands-on water bottle and air compressor rocket launch activities. 
---
ABC15s Morning Anchor Dan Spindle previewed Night of the Open Door on ASU's Polytechnic by taking a of the aviation program on the Polytechnic campus.  
---
ASU Bioengineer Thurmon Lockhart, Ph.D.,  draws on his career studying human locomotion to provide insight for Men's Health Magazine on how to fall safely. 
---
Fulton Schools in the news archive
2017 • 2016