USPCAS-E draws Fulton Schools grad back to ASU, makes global impact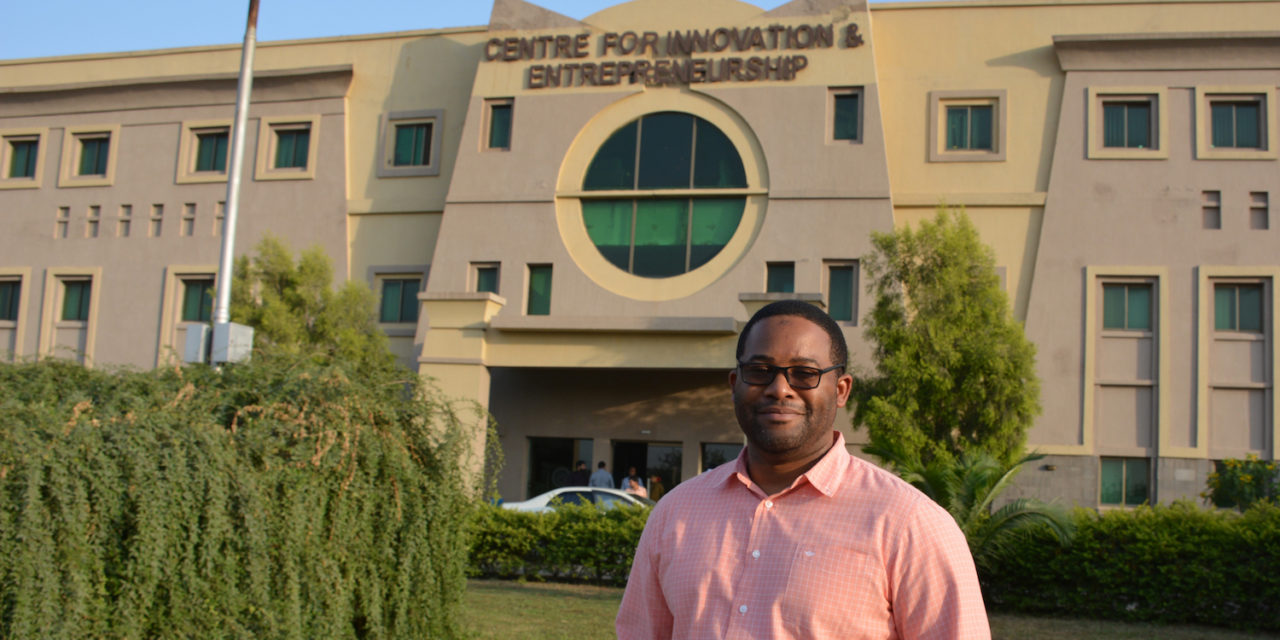 Above: Edward J. William Jr. graduated from the Ira A. Fulton Schools of Engineering and has returned to ASU as the technical advisor to USPCAS-E in Islamabad, Pakistan. Photographer: Arsal Latif/ASU
The U.S.-Pakistan Centers for Advanced Energy, better known as USPCAS-E, is bringing an Ira A. Fulton Schools of Engineering alumnus back to campus, just in time for homecoming. Edward J. William Jr. graduated with a bachelor's degree in electrical engineering in 2005.
William values his experience with the Fulton Schools, saying that, "My electrical degree has opened up doors to specialize in high-voltage power systems. It helped me to focus on obtaining a Professional Engineering License in the professional field as a practicing engineer."
During his time at ASU he thoroughly engaged in the Fulton Difference by becoming the president of the Eta Kappa Nu fraternity, an honor society specializing in electrical engineering.
Fulton Schools graduate on the move
Before working for USPCAS-E, Williams worked for Commonwealth Edison and served as a power systems protection and controls (P&C) engineer. He offered his P&C engineering skills to Primera Engineers Ltd. in Chicago, IPS-Energy in Germany and SPX Transformer Solutions since graduating from ASU. He also acquired more than five years of technical engineering experience with The Boeing Company and Honeywell International.
Along with his scientific contributions to publications for the IEEE and CIGRE Canada, he also held national leadership positions in IEEE Power and Energy Society Standards committees and the National Society of Black Engineers.
Coming home for homecoming
Currently, William is in Pakistan trying to help solve Pakistan's dire energy situation using the country's most renewable source of energy — it's students.
He will be acting as a research advisor with the National University of Science and Technology through the USPCAS-E project as their technical adviser. His work will include inspiring new ideas to create innovative energy solutions at NUST.
Part of his time will be spent in Pakistan and the rest will be at ASU. Having come back to Arizona, he says, "I have to admit, it feels like coming home. When its home it becomes your obligation as alumni to make the university transcend to the next level."
His work with USPCAS-E not only does just that, but it also makes the world a better place. Pakistan is suffering from an extreme energy crisis and the hope of the project is to invest in the future of the country's people through education, innovation and ingenuity.
His time abroad sharing knowledge and experiences is symbolic of the long-lasting, 70-year, friendship between the two countries. Reflecting on his time overseas, he remarked that, "Pakistan is a beautiful country, full of great people that I have grown to call family. I have received kindness and hospitality."
"I see continuing growth in the strength of our relationship. This will be by advising on research, curriculum review, exchange program and sustainability. There is tremendous opportunity to build a lasting and fruitful relationship between ASU-PCASE, NUST and UET."
The journey of William's career has been extensive and is indicative of the impact and influence Fulton Schools graduates can have in the world. William should be back in Tempe, Arizona in time for homecoming before setting out on another venture to Pakistan later this year.