Rising in stature
Fulton Schools Professor Samuel Ariaratnam's latest in a long list of awards bolsters his status as a pioneering underground construction expert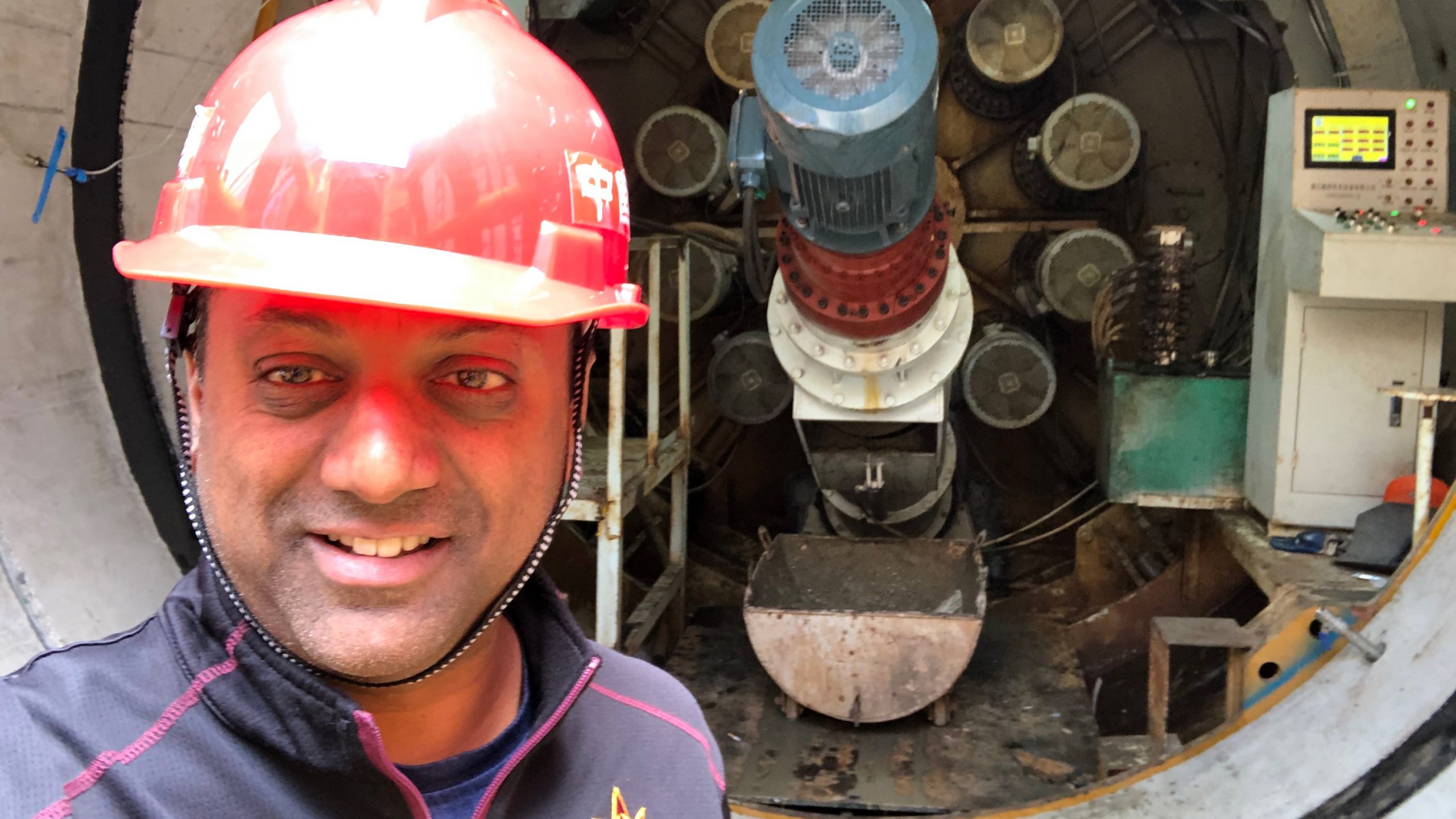 Above: Professor Samuel Ariaratnam has earned an international reputation for his construction engineering expertise. He is pictured at a construction project site in China, where a pipe jacking machine is in use. It's one of the high-tech tools of the trade in the underground construction and drilling field. Ariaratnam recently won an award from the American Society of Civil Engineers for his achievements in pipeline construction engineering. Photo courtesy of Sam Ariaratnam.
Now more than two and half decades into his career, Samuel Ariaratnam has seen only a few of those years go by without an award or other notable recognition for his achievements as a construction engineering educator and innovator.
But the latest honor is special, he says, because "it's a really tough one to win" for someone in his position — meaning a college professor.
Ariaratnam was recently named this year's winner of American Society of Civil Engineers, or ASCE, Stephen D. Bechtel Pipeline Engineering Award, making him only the sixth academic to receive the accolade in the 50 years it has been presented.
"I'm especially honored because some of those who have won this are very famous people who have developed design equations that have advanced the field or have done some amazing projects," says Ariaratnam, a professor in the Ira A. Fulton Schools of Engineering at Arizona State University.
Ariaratnam is among the leading experts in the development of trenchless construction methods and technologies used in underground construction. He is particularly prominent in the area of horizontal directional drilling, which enables subterranean building and installation to be done with minimal disturbance to the surface.
For years, he has been working with contractors, public agencies and construction manufacturers on how to best engineer ways to do underground installation of oil, gas and electrical lines, water infrastructure and other public utility systems without eroding fragile landscapes, digging up or shutting down roadways or disrupting busy urban core areas.
"Sam is a pioneering researcher and a leading influential voice on noninvasive, sustainable and cost-effective methods for advancing underground infrastructure development," says Professor Ram Pendyala, director of the School of Sustainable Engineering and the Built Environment, one of the six Fulton Schools, in which Ariaratnam chairs the construction engineering program.
Pendyala says Ariaratnam's contributions to the field have been "enormously impactful" and deserving of "the worldwide recognition he has earned as an outstanding scholar, educator, mentor and leader in the construction profession."
Extensive range of contributions to his field
That assessment of his accomplishments is backed up by Ariaratnam's long list of impressive titles and positions, including being a member of the National Academy of Construction, or NAC, a Fellow of the Canadian Academy of Engineering, a past chairman of the International Society for Trenchless Technology, or ISTT, and the 2012 Trenchless Technology Person of the Year.
Ariaratnam is also a past chairman of both the ASCE Pipelines Division and a recipient of the ASCE John O. Bickel Award, Arthur M. Wellington Prize and Pipeline Division Award of Excellence. He was elected as an ASCE Fellow in 2015.
He received the prestigious ISTT Gold Medal in 2019 and was recently elected as a Fellow of the ISTT.
He is a registered professional engineer in Arizona and Ontario, Canada. He is also vice director of the China-U.S. Joint Center for Trenchless Research and Development and a distinguished professor at the China University of Geosciences.
Ariaratnam holds several additional positions at ASU — where he has been for the past 20 years —including the Beavers-Ames Chair in Heavy Construction and a senior sustainability scientist in the university's Global Institute of Sustainability and Innovation.
Ariaratnam has co-authored eight books on trenchless construction, most notably "Horizontal Directional Drilling: Good Practices Guidelines," with colleague David Bennett, a consulting engineer. First published in 2001, it has since been updated in three subsequent editions — and translated into Mandarin, Portuguese and French.
The book continues to be cited frequently, Ariaratnam says, and has been used as a guide for legislation in several states that sets standards for underground construction.
Expanding underground construction challenges

Ariaratnam was nominated for the ASCE award by Professor Edd Gibson, the Fulton Schools Professor and Sunstate Chair of Construction Management and Engineering.
"Sam is especially deserving of this award. His research and service activities have had profound impacts on pipeline construction around the world," says Gibson, who is also an NAC member and a Distinguished Member of ASCE.
Ariaratnam foresees a growing need for even more innovation in the field and for skilled construction professionals to implement advances in trenchless construction and horizontal directional drilling.
The underground construction methods and techniques that have been developed to date may be sufficiently versatile for the moment, but they will need to be even more so, Ariaratnam says.
"Look at how much and in how many ways we are relying more heavily on things like the fiber optic networks that transmit information for our phones and televisions and the internet. We are going to need upgrades for them as demand grows," Ariaratnam says. "We will need to adapt and advance drilling and construction methods to ensure these networks are secure and functioning at high efficiency."
Ariaratnam is looking forward to contributing to those necessary improvements in the design, construction and operation of new kinds of underground infrastructure systems, including fiber optic networks.
Just as importantly, Ariaratnam says he also wants to bring knowledge of discoveries resulting from new research that is enabling those advances into the education of students in the Fulton Schools construction engineering program.
Among his foremost aspirations, he says, is to help provide the world with the next generation of construction engineers equipped with the skills to expand the boundaries of today's underground construction and drilling capabilities.
Ariaratnam will deliver the Bechtel Lecture at the 2021 ASCE Utility Engineering & Surveying Institute Pipelines Conference on August 5, to be held virtually.